Alpacas
Currently we have 54, with six being babies (cria's).  You'll see them in various fields and stables around our yard, in herds. We have two breeds Huacaya and Suris, oh and we do have one Llama too!
The Girls – Karot Islay & Ingott are the eldest of our 31 girls. Six of the girls had crias May-July  2023; Mountbatten, Meadow (hand reared), Miss Marple, Marley, Maisie and Midnight Magic.  The girls are together in one herd. We can introduce you when you visit and try and remember all their names!
The Walking Boys – Huckleberry & Herbert are white and were the first trained.  They kindly showed the rest of the boys the etiquette in walking with a lead and harness. George is gorgeous and loves a selfie.  Bryn our suri (brown ringlets), Hugo & Hector faun twins, Inglebert cute and cuddly white and lastly in this group Jason & Julius.  Bryn and Hector are our therapy boys and love to go on the trailer out for visits along the Fylde coast.
Up and coming walkers – These are our 10 adolescent alpacas and are currently being trained to go on walks.  They are super inquisitive and get easily distracted when they try to decide who is the boss of the herd is! Walk-Training has started, but Mullet decided that he wanted a story read to him! Rather than working. Quartz decided that he wasn't going to walk at all!  In training are Mullet Boy, Lamassey, Larry, Lawrence, Linton, Linoel, Lorrenzo, Loxly, Lucas and Quartz.
Our Llama
The Three Amigos – Cameron and Phoenix are alpacas and the third is Drama Rarma Bushwacker who's our llama and frightened of his own shadow.  They arrived at the farm as a trio and are very happy enjoying the space to roam in their field.  Eventually they will be fully trained to join the boys on walks.
Our little guys!
Shetland Ponies – our "Minnies" Johnny and Cracker are our two shetland ponies but you may know them as The Unicorns, The Elf's and whatever outfits we have at the time, to dress them up in!  Johnny absolutely loves to dress up, just get the outfit out and he's there.
Pebbles, he's an Appleousa pony white with black spots and has just got off his diet so he can try and squeeze into the dressing up outfits.  He's hoping to wear the Reindeer outfit.  One of his good friends is Sol who's usually in the stable next to him and very vocal.
Sheep – Swiss Valais, Swarble and Texal
Arh, who's your favourite?  Sheep cuddles are a must but the hardest part is choosing which one, before they come and choose you.  If you do fuss them, you will get lovely soft (might be dirty) hands from their coats (lanolin).
Four lambs; Kit (swiss valias), Kendrix (spitti) and the Texal crosses Milky Way and Ziggy.   Kit & Kendrix arrived in January and are such characters, then at Easter Milky & Ziggy came for a visit but they are now at their forever home!
Ginny (black female sheep) is the friendliest of the bunch (but they all are!) and she's mum to Kendrix.  Iris & Idra are our other two girls, who watch you from a distance.  Harrison and Hendrix are our eldest boys, who are four years old and have such amazing curly horns.
Chickens
Boris our head cockerel is in charge of all the Silkies and Perkins. We have a few lower ranking cockerels Roderick and Rodney, these two guys strut about the yard.  The rest of the flock are well trained (ha ha!) and stay near the coup and enjoy being pampered.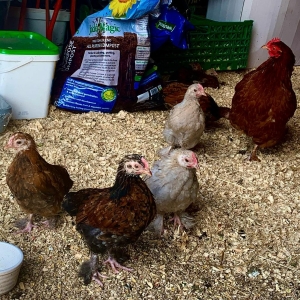 Rabbits
We did have four, and now its eight! We started with Flash (he's a lion head white & brown) and Floppsie (she's white and black).  Then Lola came and soon after Honey Monster.  Recently,  we've acquired a lovely litter Buttercup, Daisy, Thorn and Hoppy.  These were kindly donated  from a family who've visited us and have come back! 
Guinea Pigs
Guinea Pigs – Dolly & Sally.  These are therapy animals and if you are lucky they may even groom you ????. They make a wheeking sound when they are excited.  Super cute.  And only this, have we increased from two to four!  Welcome to Bryn and Marshall.
Farm Cats
Ted & Maisey used to be feral when they arrived, from the cat rescue.  Not that you would ever know!  Ted is the farm's mascot and loves to meet and greet. Also you will be meeting a famous cat as he's been on TV and a film!
Sorry! You'll have to wait until our August Open Day 
August 2024 will be our next availability.  Adoption is an annual offer, only at our Open weekend.  The hard part is choosing which animal ….. Im sure they won't take it personally, if you don't choose them all!
The Alpaca's oooh they are cute, the Llama, oh the Valais' sheep Harrison & Hendricks, the Donkeys the girls are so sweet . . . . .
Please contact us for more details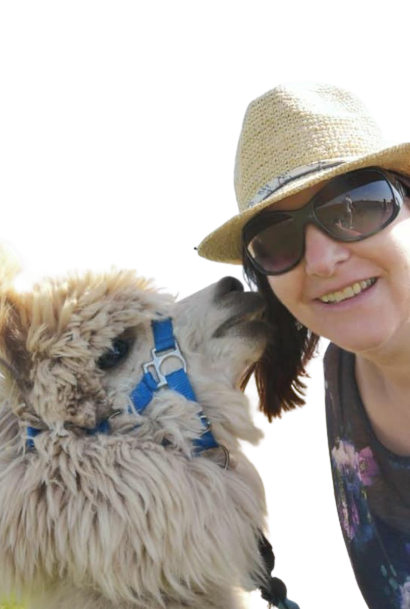 Looking For More Information?
Get in Touch
The easiest way to get in touch with us is to use our contact form. If you don't get any answer from our phone we may be out in the fields. Whichever way you want to leave us a message we will get back to you asap.
Our Risk assessment for Schools, Groups and Individuals: