Animal Therapy Visits
Welcome to Lowlands Farm, where we endeavour to provide a caring relaxed therapeutic environment for you to interact with the animals or just to sit and reflect the nature, habitat and animals around you, whether you'd like a more hands on approach with our horses, sheep and alpacas or just to sit in a quiet space surrounded by nature or taking part in one of our crafting workshops chatting with other individuals.
We have seen the amazing effects the animals at lowlands have on a persons well being and sense of worth .
Our Farm can help with mild to moderate mental health issues, special needs, leaning disabilities, people recovering from illness, or individuals just needing time out. We aim to bring a sense of well being through animal husbandry and nature.
At Lowlands farm we also work closely with Helen Robertson from HKR Counselling, Thrive and Social Farms and Gardens Care Farming who provide great support, learning material and courses for us to work with . Please call for an informal chat to see if we can be of help as these visits are tailored to each individuals / groups needs whether they take place at the farm or off site.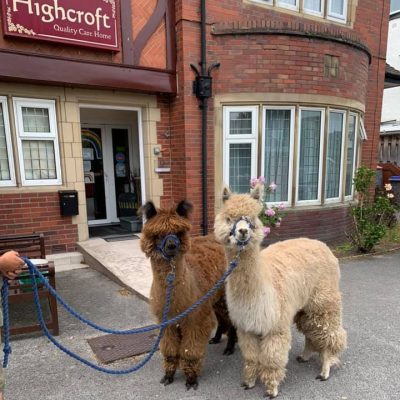 From £90/Call for details
Looking For more Info?
For detailed information on Therapy visits please check out our new dedicated website
Looking for Private Counselling?
We work closely with our friend and local professional counsellor Helen Robertson. If you would like to speak to her privately on any issues that are concerning you please check her website for contact details and the services HKR Counselling offers.
Get in Touch
The easiest way to get in touch with us is to use our contact form. If you don't get any answer from our phone we may be out in the fields. Whichever way you want to leave us a message we will get back to you asap.
Our Risk assessment for Schools, Groups and Individuals: